---
Forget walking tours and crowded tourist traps; some of the best travel destinations are actually below the water's surface. From lost cities and museums to restaurants and hotels, there's a whole world of underwater attractions just waiting for you to dive in.
1. Museo Subacuatico de Arte
Photo Credit: Flickr/23259080@N08
Location: Cancun, Mexico
This underwater museum features some 500 sunken sculptures across 420 square meters, making up one of the largest artificial reef installations in the world. The museum also serves as a habitat for marine life to colonize, as the sculptures are made of materials that promote coral life.
2. Ithaa Undersea Restaurant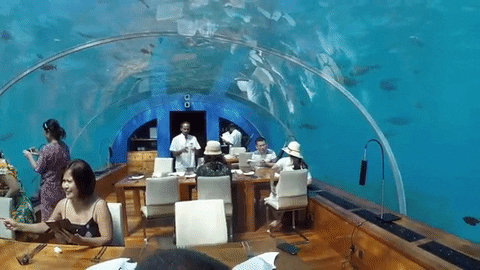 Location: The Maldives
At 16 feet below sea level, this fancy little eatery is the world's first all-glass underwater restaurant, ranked "the most beautiful restaurant in the world" by the New York Daily News in 2014. Open for lunch, dinner and mid-morning cocktails, you won't want to miss a chance to have a drink with some new fishy friends.
3. Jules' Undersea Lodge
Location: Key Largo, Florida
Sleep with the fishes at the only underwater hotel in the U.S. Here, guests scuba dive to their accommodations. Celebrity visitors who have taken the plunge include Tim Allen and Steven Tyler. Not a certified scuba diver? Not to worry. You can be trained on-site in the lagoon before heading down to your room.
4. Parco Archeologico Sommerso di Baia
Location: Naples, Italy
Visit the ruins of Baiae, an ancient Roman resort that has been transformed into an underwater park. Due to tectonic shifting, the site now sits 15 feet below the surface and houses a number of old statues and architecture not be missed while on your Roman holiday.
5. Underwater Sculpture Park
Location: Grenada
Being the world's first underwater sculpture gallery, this oceanic beauty holds pieces that are bolted to a substrate 22 feet deep and is constantly expanding with new exhibits. One in particular is a series of life-size faces molded into a coral boulder, resembling something of an underwater Mount Rushmore for your viewing pleasure.
6. Underwater Post Office
Photo Credit: Flickr/davelonsdale
Location: Vanuatu, Oceania
Are you a fan of sending postcards during your travels? Send a special waterproof postcard from the world's only underwater post office. Situated within the Hideaway Island Marine Reserve, this unique postal service sits in around 10 feet of water and is designed for the duck-diving snorkeler. You'll never see snail mail the same way again.
7. Sunken Pirate City
Location: Port Royal, Kingston, Jamaica
One of the largest towns in the English colonies during the late 17th century — and referred to as "The Wickedest City on Earth" due to heavy piracy, deadly rum and prostitution centuries ago — this Captain Jack Sparrow-approved location sank after an earthquake "punished" the town in 1692.
Learn about how you can help vulnerable marine animals by signing up with Oceana.