---
The villagers of Port Heiden, Alaska were accustomed to seeing an occasional walrus. But they never expected over 1,000 to show up. And biologists are equally baffled.
It all started when Port Heiden's tribal council president, John Christensen Jr., got a whiff of something putrid while he was riding his four-wheeler on the beach. Christensen followed the smell, thinking he was going to find a rotting otter or seal carcass.
What he found instead was about 200 walruses lounging on the beach.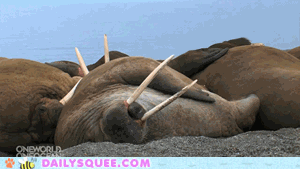 Giphy
Two weeks after that initial discovery, Christensen found even more walruses — over a thousand of them on a beach about 20 miles from Port Heiden.
Such a gathering has never happened before.

Walruses are highly social animals.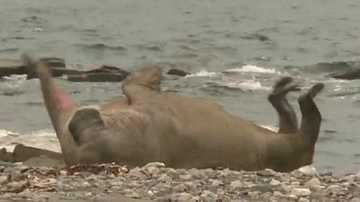 Giphy
For most of the year, they live in sex-segregated herds. Males will spend several days foraging for shellfish and then spend several days resting in massive piles on the beach together. So it's definitely not unusual to see a large congregation of walruses.

But walruses usually have regular spots where they spend their time resting and foraging.
Why did over 1,000 walruses suddenly come down to Port Heiden, when this has never been a regular walrus haunt?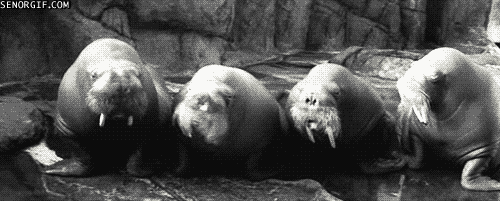 Giphy
The Guardian asked Joel Garlich-Miller, a U.S. Fish and Wildlife Service biologist who specializes in walruses, why there are so many gathering near Port Heiden. In short, he doesn't know. But he thinks the walruses may be spreading out in search of better foraging opportunities.
The one time of year that male and female walruses are together is during the winter, when the ice in the Bering Sea (between Alaska and Russia) is thickest and most expansive. But when the ice recedes in the spring, the male and female walruses go their separate ways.

Females and their calves follow the ice north across the Bering Straight and all the way into the Chukchi Sea (between Alaska and Russia but on the north side). Meanwhile, the males will stay in the Bering Sea but move onto islands or remote land masses in Alaska's Bristol Bay.
Port Heiden is located on the Alaska peninsula, about 130 miles south of where the male walruses typically hang out in the bay. Garlich-Miller thinks the walruses may have come south to the Alaska peninsula to find more rich feeding grounds.
Will Port Heiden become a regular gathering spot for the bull walruses? Only time will tell.