---
In the latest news of how 3-D printing is changing our lives (human and non-human) for the better, a disabled alligator has received a perfectly fitted, 3-D printed prosthetic tail. It's a happy development in a long and difficult journey for this animal.
In 2013, an American alligator with no tail was found in the back of a semi-truck loaded with exotic animals — all being illegally transported by animal traffickers.
The maimed gator was brought to the Phoenix Herpetological Society, where he was named Mr. Stubbs.


Giphy
It's unclear how Mr. Stubbs lost his tail, though another gator bite is a likely explanation, according to ABC News. Without a tail, Mr. Stubbs couldn't swim very well, which is a big problem for an animal that spends most of its time in the water.

The staff at PHS spent over a year working with researchers to create a prosthetic tail for Mr. Stubbs.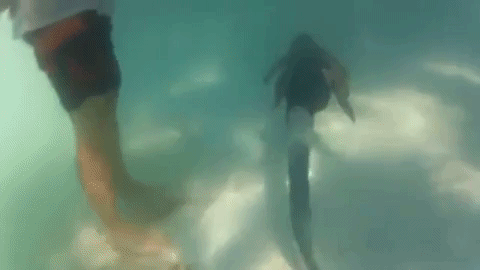 They made a mold of the tail of a deceased alligator that was about the same size as Mr. Stubbs, and then used that mold to create the prosthesis. It was the first prosthesis ever made for a crocodilian anywhere in the world.

The first tail was a major improvement from having no tail, but it was a bit clunky, and because it was molded from a different alligator, it wasn't a perfect fit for Mr. Stubbs' body. Mr. Stubbs also grew bigger and outgrew the tail, as well as several subsequent tails.
When it came time to replace Mr. Stubbs' tail again, the researchers decided to collaborate with a company called STAX3D to make a 3D-printed tail.
The first step was to take measurements of the gator's body using a 3D scanner. The scanner is extremely precise — able to take measurements of less than a millimeter.

The 3D printer did the rest of the work, building a new tail bit by bit. When the tail was finally finished, Mr. Stubbs took to it very quickly. After about five weeks of wearing the tail, he used it to slap one of the volunteers at the rescue facility. The volunteer was fine. And that behavior indicated that Mr. Stubbs had integrated the prosthesis into his natural body movements.
Mr. Stubbs has become a kind of local legend in Arizona, and he serves as an inspiration for humans with prosthetic limbs. 3D-printing technology is, of course, also improving the accuracy and comfort of prostheses for humans.