---
For once we have a crazy alligator story that takes place outside of Florida.
According to People magazine, David Castaneda was fishing from his kayak in Lake Michigan when he came upon something with an odd shape. At first he thought it was a pool toy shaped like an alligator.
But it turned out to be a REAL alligator.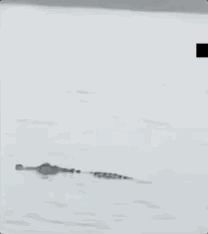 Yes, a live alligator in the chilly waters of Illinois.

People reported that the water temperature in the lake at the time was around 62 degrees Fahrenheit. That's much cooler than alligators are used to.
According to the Detroit Free Press, alligators prefer water temperatures closer to 80 to 90 degrees Fahrenheit. They stop eating if temps fall below 70. Not that this alligator could eat at all — his mouth was tied shut with rubber bands when Castaneda found it, according to CBS News.
When he noticed his mouth, Castaneda decided to take action.
"It was just so weird, something out of the ordinary," he told ABC 7 of finding the reptile. "It's not supposed to be here ... it can't defend itself and it had its mouth closed, so it was going to die if I left it there."

Castaneda used his fishing gear to tow the animal to shore where he was then taken to Lake Forest Wildlife Discovery Center, per ABC 7. The alligator has been rehabilitating there ever since.
In several Facebook updates, the center updated the public about the alligator's health status — and also his new name. The center christened him David after the man who rescued him.
Seriously, so cute.
The center also reported that they expect a full recovery for David, even though he was very thin and hadn't eaten in a while when he was brought in.
As he warmed up from those chilly Lake Michigan waters, he eventually vomited his most recent meal: plastic and rubber.
The center's Facebook page reported that experts believed the debris to be from a filtration system. He's fortunate to not have thrown up while his mouth was still bound, or he would have died, the center reported.
Aside from his low weight and poor nutrition, David has a liver issue and an infection, both of which are being treated.

In the meantime, People reported that how the alligator got there in the first place is being investigated. The Detroit Free Press reported that it is legal to own alligators in Illinois, but that a permit is required.
What's not legal is animal abandonment, reported People. So if he was dumped from a home aquarium — as his eaten filtration system may indicate — someone could be in serious trouble.
But the good news is that David was saved in time, and he'll be resting comfortably as he gets back up to peak health.