---
SeaWorld seems to be slowly but surely swimming into the sunset. Last Wednesday, the marine park saw its final killer whale born into captivity, USA Today reports. Takara, a 25-year-old female at SeaWorld San Antonio, gave birth to a healthy baby orca.
SeaWorld veterinarians have yet to determine the sex of the calf, so they haven't yet given it a name. The newborn calf raises SeaWorld's total number of orcas in the United States to 23, all of which are housed in San Diego, San Antonio and Orlando. It was born tail-first after 1.5 hours of labor, according to the Washington Post. Trainer Julie Sigman said they're in no rush to figure out the gender of the calf. "We take our lead from mom. Takara will let us know when she is ready for us to meet the calf and begin developing a trusting relationship, just like we have with Takara.
In the meantime, we let Takara be the awesome mom she is caring for her baby's every need," she's quoted as saying in the SeaWorld press release.
If you're wondering why a baby orca was just born after SeaWorld announced it would terminate its captive breeding program, you're not wrong.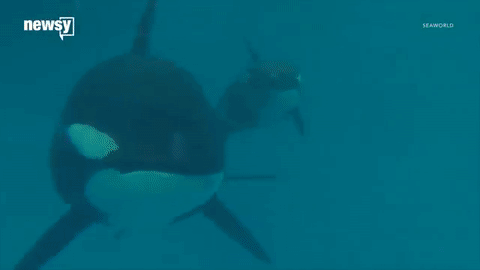 But Takara was actually already pregnant at the time of the announcement, so her birth doesn't really violate SeaWorld's pledge.
Photo Credit: SeaWorld Parks & Entertainment
After all, orcas are pregnant for 18 months, making for a long gestation in which anything can happen. SeaWorld says Kyuquot, a male orca at the San Antonio park, is likely the father. But the veterinarians are going to run a paternity test just in case.
While this marks the last baby orca born at SeaWorld, the park still appears on track to end its killer whale performances by 2019. The park has no current plans to move its orcas — newborn or full-grown — so visitors will soon be able to see Takara and her calf on display at the marine park, most likely for the rest of their lives.
Watch SeaWorld's video about the new baby orca below.