---
Betta fish are often touted as the easiest fish to keep as pets.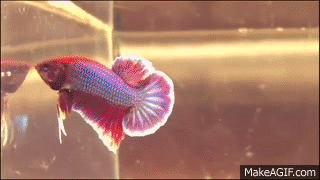 They don't need a lot of space, they live in fresh water and they can even tolerate water with lower oxygen levels. But according to National Geographic, PETA (People for the Ethical Treatment of Animals), is running a new campaign arguing that betta fish are not entirely happy and healthy living in these conditions. And they may be right.

Betta fish may need less space than other fish, but they often don't get enough.
media.giphy.com
In the wild, betta fish live in rice paddies, which are pretty deep and connected to a larger body of water. There's a rumor that betta fish will naturally thrive in just a puddle, but this isn't the case. When rice paddies dry up, a betta may be left with just a few inches of water to swim through, but they would rather have more.

People often put bettas in small fishbowls that only hold about a gallon of water. But a single betta fish actually needs a tank that is at least 2.5 gallons or even larger.
And the problems with betta fish habitats go beyond just space.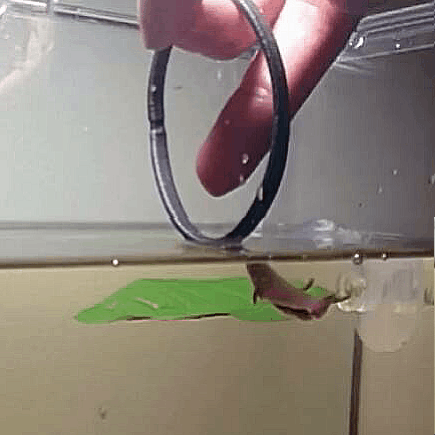 media.giphy.com
Owners of betta fish will sometimes put a plant in their tank for food, but in the wild betta fish actually eat insects and larvae. Betta fish also need enrichment — things in the tank that they can explore, like caves and vines.

According to this study, betta fish also get stressed out from being forced to live in tanks with other fish they consider rivals. Betta owners must do their research and only select companion species that betta fish in the wild get along with. And the more fish you put in a tank, the bigger the tank has to be.
Can a betta fish really feel depressed or anxious?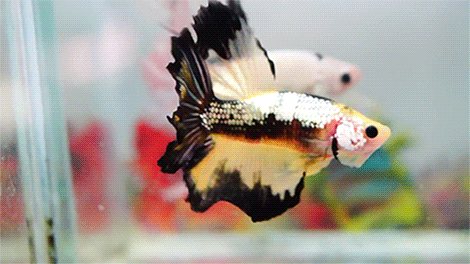 media.giphy.com
Academic researchers who have studied fish say yes, they can experience depression or anxiety. Fish become withdrawn (just like depressed humans do) when they do not have enough stimulation, as opposed to fish who have a lot of activities to do.
Fish continue to surprise us with their cognitive abilities, so we shouldn't assume their welfare doesn't matter. Fish deserve everything they need in order to be happy and healthy, just like other pets.