---
An Australian freediver was recently lucky enough to catch some incredible up-close footage of an octopus guarding its eggs. But the diver was even luckier to make it out alive after an encounter with one of the deadliest marine animals on the planet.
Jules Casey is an experienced freediver in Australia who has captured some pretty cool underwater shots.
But one of her most amazing videos came from a recent dive in a Victoria port with fellow diver Steven Walsh.
Walsh caught sight of a blue-ringed octopus that was protecting her eggs.
The animal doesn't look dangerous — its colorful, patterned skin can look downright playful — and it's incredible to watch how quickly it can change its looks.
Wikimedia/Jens Peterson
But divers can't be fooled by its gorgeous veneer. The blue-ringed octopus is one of the most venomous underwater creatures that exists.
Not all poisonous marine animals are dangerous to humans.
But blue-ringed octopuses carry tetrodotoxin — the same toxin in super deadly animals like the pufferfish — and can use it against humans if they feel threatened.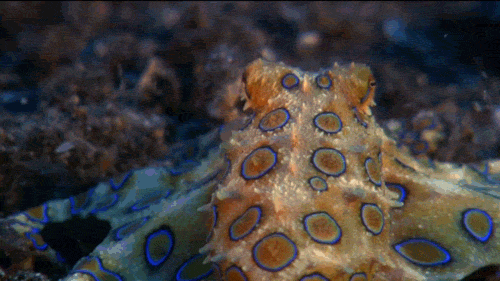 Giphy
Normally, octopuses that are protecting their eggs would feel threatened, which is why we don't have a ton of footage of the animals guarding their eggs in the wild. But luckily for us, Casey was able to snag some clear footage of the blue-ringed octopus doing just that.
In her video, viewers get to see what it looks like as the octopuses arms fold itself into a protective ball. Then, they get an incredibly close view of the curious egg sack of an octopus. If all progresses well, soon those sacks will burst and baby octopuses will enter into their new underwater world.
After that, the mother will die, as most cephalopods do once they've given birth. But thanks to Casey, we've got a pretty cool shot of her before she succumbs.

Watch the full video of the blue-ringed octopus and her eggs below:
Add your name right now to make a difference for marine life and our oceans with Oceana.
Add your name right now to make a difference for marine life and our oceans with Oceana.