---
A group of Buddhist monks in Canada just made a lot of new friends — lobster friends, that is.
More than 600 pounds of lobster have been given a second chance at life under the sea, thanks to a liberation project arranged by monks from the Great Enlightenment Buddhist Institute Society.
In an effort to "cultivate compassion," the monks bought eight crate-loads of lobster from various businesses around Canada's Prince Edward Island. They then took the lobsters on board a fishing boat and held a 20-minute ceremony, praying and chanting before releasing them back into the ocean near the Wood Islands.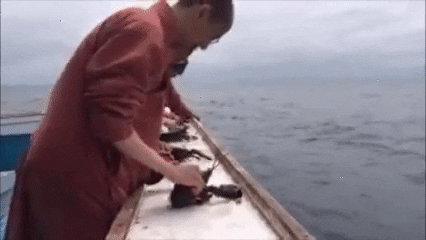 The Buddhist group said islanders — including fishermen — have supported the cause and have offered help in finding a better and safer place to release the lobsters.
In an interview with CBC News, Venerable Dan, a spokesman for the monks, said he hoped to find a release spot where cages weren't waiting for the friendly sea creatures.
"This whole purpose for us is to cultivate this compassion toward others," he said. "It doesn't have to be lobsters; it can be worms, flies and animals — drive slower so we don't run over little critters on the street."
It's nice to know someone has the little critters' backs.