---
Albino ocean animals are super rare, but they do happen every once in awhile.
That's why the world was so captivated when they first met baby Casper the albino dolphin in 2015. Casper also showed up again in 2017 and just recently in September 2018, according to BNQT.
Isn't Casper adorable?
Casper was so named by photographer Daniel Bianchetta, according to the Monterey Bay Whale Watch Facebook page.

It was originally spotted in 2014, according to MBWW, but the dolphin got its name in 2015 when Bianchetta first photographed the rare creature.
Casper is a Risso's dolphin, which is usually known for its gray skin covered with white scars from the squid it eats.
Casper defied the odds by being born totally white.
Still, the dolphin is just accepted as one of the pod, and, whenever Casper is spotted, it's always been alongside fellow Risso's dolphins. Maybe that's because dolphins are actually color blind so they can't tell what color any of them are, really.

In 2017, LiveScience reported that Casper was spotted again.
This time the white dolphin was looking a little more yellow.
According to Earth Touch News, yellow markings have also been seen on albino humpback whale Migaloo. The outlet reported that algae attached to the whale causes the coloration, which will fade when the whale leaves the more algae-rich areas of the sea.
Gizmodo reported that Casper's yellow markings seen in 2017 were also because of algae.
But now the dolphin is back to its stark-white color in the recent September 2018 footage.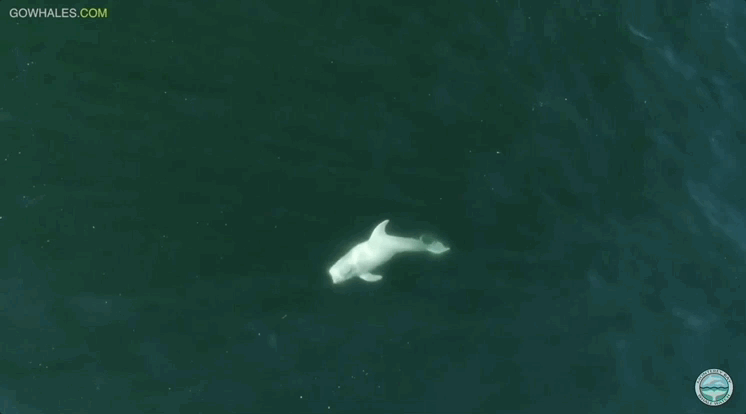 Giphy/Monterey Bay Whale Watch
This most recent sighting is especially exciting because it comes via aerial drone footage.

It gives us a whole new view of Casper and the rest of the pod.
Giphy/Monterey Bay Whale Watch
In 2017, LiveScience reported that it was estimated that Casper was 3 years old, making the now 4-year-old still a juvenile dolphin.

You can see Casper playing around in the video below:
Here's hoping we see this special dolphin again soon!

Add your name right now to make a difference for dolphins, whales and other marine mammals with Oceana.