---
New restrictions from China intended to push back against Trump's trade war have American lobster producers worried about their future in the business.
As part of China's retaliation, it is imposing new regulations on the lobsters that come over from the USA, including adding new tariffs not previously agreed upon and requiring more documents from traders.
Ten years ago, such restrictions might not have mattered.
The Chinese lobster market is a new one for U.S. exporters, but in the past decade or so, it has become an increasingly important one.
Flickr/BXGD
Consumers in China have grown to love their seafood meals, and they now make up as much as 50 percent of the global lobster market. American producers have worked hard to keep up with the growing demand.

They learned to market their catches to the Chinese lobster lovers, and worked with their supply chain to make sure the animals would be fresh and up to regulations even after flying across the world.
Flickr/Dan Dickinson
Now, with the new restrictions, lobsters have to lay waiting to pass inspections and aren't fresh by the time they make it through — or, even if they do get through, are more expensive due to increased tariffs.

Chinese wholesalers are understandably turning to Canadian lobsters instead, as the country's catches aren't subject to the same kind of increased prices and scrutiny.
The switch has the potential to be devastating for lobster farmers in Maine and other high-producing areas.
They haven't felt the heat as much lately, as American consumers and Maine tourists are still turning to some of their favorite summer meals like lobster rolls.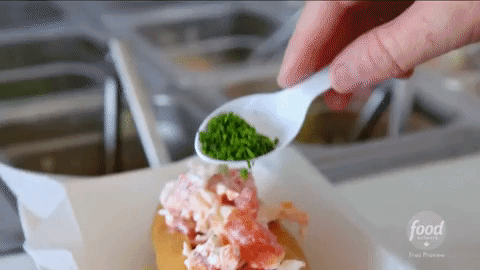 Giphy
But as fall sets in and sellers have to look elsewhere for customers, they're worried that they'll feel the impact.
The ball is in the President's court.
If he doesn't make a play soon, it could be American lobster farmers — not the Chinese lobster-roll lovers — who get hurt.
Flickr/Captured Visuals