---
Sometimes we all need a reminder that there's a little love in this world. Luckily, a new video of a dog and a dolphin becoming instant best friends surfaced to remind us of just that.
Eileen McGunagle posted the adorable video from her recent Florida boat ride to her Facebook page. In it, a dog named Lucy was already having a fun boat ride.
But it immediately becomes the best boat ever when she catches a glimpse of a dolphin splashing and swimming alongside the vessel.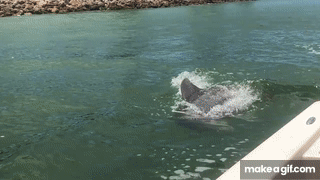 makeagif.com
Lucy immediately runs to the side of the boat, tongue wagging, keeping her eyes out for another sighting of her new BFF. When the dolphin surfaces again, she notices she has a new bud, and playfully swims alongside the boat, watching Lucy the whole time.
Lucy is super excited, getting into a stance that suggests she wants to dive in and play with her dolphin friend.
At one heartwarming part, the dolphin seems to invite Lucy into the water.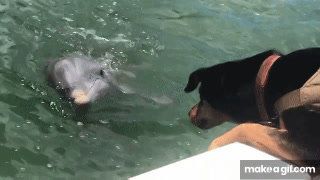 makeagif.com
The video has been viewed more than 360,000 times. You can watch the whole thing here:
Dog Makes Friends with a Dolphin || ViralHog www.youtube.com
It's not the only time dolphins and dogs have shared an immediate and intense bond. The two animals may be separated by land and sea, but they're both known for their playful personalities, and it's brought them together before.

Another video from a few years ago shows an Irish hotel's resident lab rushing to the sea to play with the town's resident dolphin, Duggie.

In another wildly popular YouTube video, Sandy the dog sees a pack of dolphins for the first time and can't resist jumping off the boat and joining in the fun.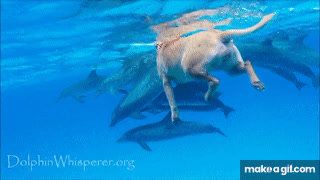 makeagif.com
Carry on, you crazy kids. You're making this world a happier place.