---
There's nothing better than an interspecies friendship, and this dolphin and stingray pair will totally brighten your day. In the four-minute video, the aquatic animals drifted along together peacefully for a long time.
They can be seen together swimming in harmony.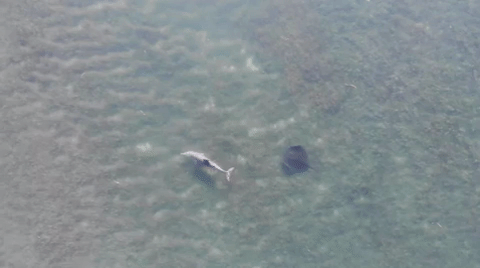 Playfully hanging out side-by-side.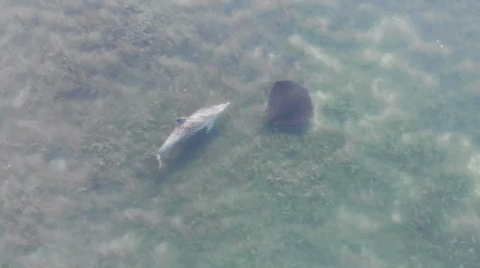 Even turning in unison.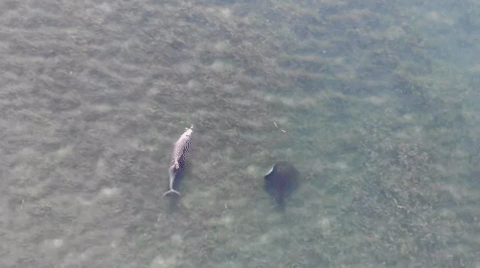 Can these two enter the Olympics for synchronized swimming or something?

The videographer used a drone to capture a bottlenose and its ray friend off the coast of Western Australia. "I was mesmerized while filming," the filmmaker said in his post about the video on Reddit's Marine Biology subreddit. "Hoping to find some answers as to what's going on here," the user added.
After all, stingrays and dolphins don't historically have a super great track record.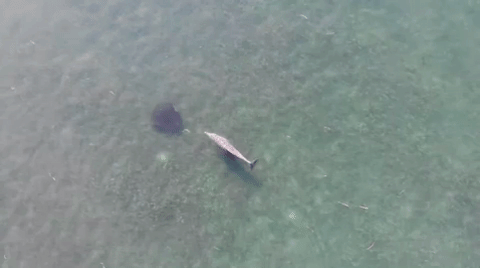 According to the Sarasota Dolphin Research Program, bottlenose dolphins in Florida often wash up with fatal stingray wounds.
In 2014, the program reported that — of the 72 dead dolphins recovered and studied since 1991 — almost 25 percent had stingray spines lodged inside. The program noted that while the spike is not always immediately the cause of death, it definitely doesn't help things, and dolphins can suffer from pain and poor health after being stung.
The Atlantic reported that some innovative dolphins have taken to carrying around sponges when they root for food on the seafloor to protect themselves.
The intention there is that if they stir up a stingray, it will sting the sponge before it makes it to the dolphin's face.
Other research suggests some bottlenose dolphins may even eat stingray, according to Behavioral Ecology.

So, yeah, there's a lot of bad blood between these two species.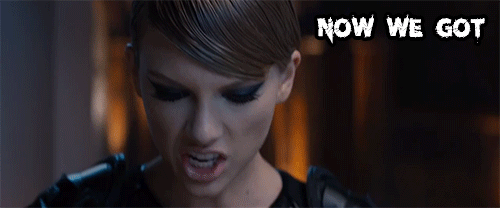 To see them swimming happily in unison is a welcome sight. Drone footage is constantly unlocking new parts of our ocean world.
Some users in the subreddit hypothesized that perhaps the dolphin was just "passing time and being curious about the stingray" or waiting to see if the stingray would flap up any food from the shallows.
But, we prefer to think they're just BFFs.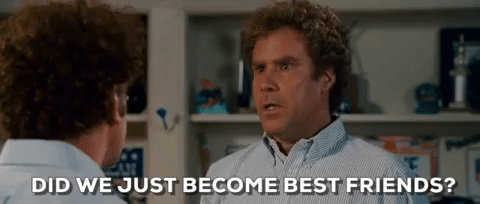 Watch the full adorable video below: