---
Meet the blanket octopus ...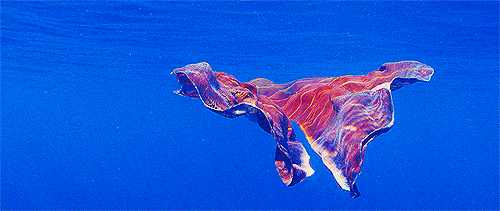 Giphy
So named for the translucent webs that connect their tentacles, like bat wings, blanket octopuses are elusive animals that spend their entire lives in the open ocean. There are four species of blanket octopuses, and besides that distinct webbing, they all have one thing in common: The females are dramatically larger than the males.
The female blanket octopus can reach 7 feet long, but the males are only 0.9 inches. The females weigh about 40,000 times what the males weigh.
Imagine if you were a 120-pound woman and your boyfriend only weighed 0.003 pounds. That's the life of a female blanket octopus.
Size differences like these are not uncommon in the animal kingdom. Certain female spiders are 100 times larger than their mates. The male deep-sea anglerfish is so small that he has no purpose than to become a pair of gonads fused to the side of the female.

Why do all these males get stuck in such tiny bodies? From an evolutionary perspective, it makes sense. Females are the ones who hold the eggs, so larger females can produce more offspring.
Males, on the other hand, don't benefit from larger size. They're better off putting their energy into finding a mate, rather than growing big, especially when you may have to traverse miles across the ocean to find a partner.
But in some species males are bigger than females ...
Giphy
Mammals show the opposite trend: Males are generally bigger than females (although not nearly the size difference as the blanket octopus). The reason for this is that mammals have different ways of finding mates. Males often have to fight each other off in order to get to the females. In these situations, being bigger gives you a better chance of successfully reproducing.

The male blanket octopus's main obstacle isn't fighting other males; it's actually finding a female in a vast ocean. So for these cephalopods, the size difference works. It's just another fascinating example of how evolution shapes different species in different ways.