---
An Irish beachgoer stumbled on an image that summed up the dog-eat-dog ruthlessness — or really, the jellyfish-eat-fish ruthlessness — of the oceanic food chain.
Twitter user Paddy Raff snapped the photo from a Downings Beach in County Donegal, Ireland, recently. The somewhat savage but fascinating photo shows the translucent body of a jellyfish that, seemingly dead, had washed ashore between some rocks.
In its see-through belly is the crystal-clear image of a rather shocked-looking, half-eaten fish, presumably the last meal of said jellyfish.
Raff shared the photo on Twitter, using the hashtag #HomicideLifeOnTheBeach. He also noted that even "Davy Attenborough" — a nickname for the smooth-voiced narrator of incredible nature documentaries like "Blue Planet" — would have been shook by the sight.
It appears that the pictured jellyfish is a moon jellyfish, a common type of translucent jellyfish whose populations are especially high during the summer.
Twitter
Many types of small jellyfish wouldn't have gone after a whole fish for a meal, instead only chowing down on fish eggs, larvae or plankton.

But moon jellyfish are predators that go after larger prey, too, and have been known to go after small fish, mollusks, small crabs and zooplankton.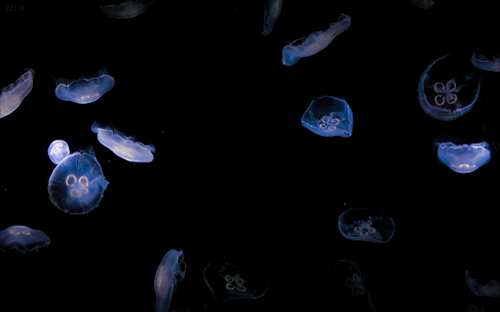 We can't know what happened to the full jellyfish after he ate that poor fish. But we do know it wouldn't have been impossible for it to have swum around with that fish in his belly for awhile.
In an Instagram caption showing off the photo, he wrote of the fish, "He was trapped in there, but controlled where the jellyfish was moving."
As incredible as it looks to us, though, it's just another day in the life of the oceanic food chain.