---
There are fish with wings, but they don't use them to fly.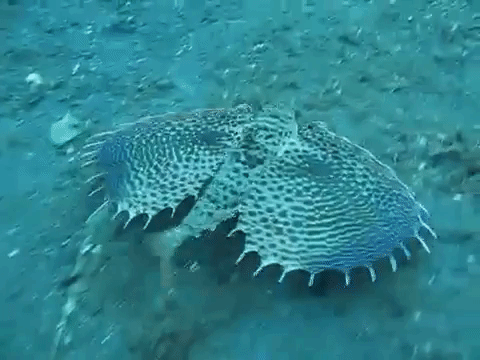 Giphy
Introducing the flying gurnard, a fish that spends its days dwelling on the seafloor instead of haphazardly leaping through the air like some flying fish.
Shutterstock
The resilient creature, which grows to about 20 inches long, can thrive in a wide variety of waters, reaching from Argentina to the Caribbean to Massachusetts.

Like many bottom-dwellers, it scuttles along the ocean floor, gobbling down small fish and crustaceans for most of its meals. And it gets a little noisy in the process.
"Gurnard" is a French word that means "to grunt" — these busy-bodies emit little grunting noises originating from their swim bladders as they swish along the seafloor. The animals then use those little clucking noises to communicate with each other.

When threatened, the flying gurnard quickly fans out a set of pectoral fins that look like wings.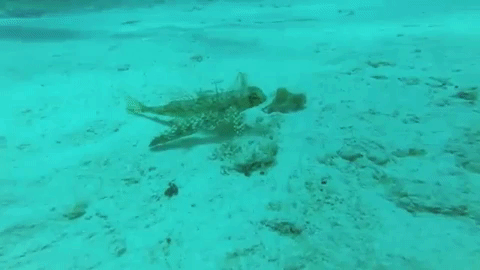 The transformation is alarming, and few divers have been lucky enough to capture it on camera.

When it's not trying to scare off enemies, some researchers think it uses those pectoral fins to help it move around the ocean floor. It also likely uses them to dig through the sand to find some of its meals.
Other experts believe that every once in awhile, these fish use their wings to glide across small parts of the water — you know, in a way closer to how the other fish with wings typically use them.
Even crazier-looking than the flying gurnard is the armored searobin, another fish with wings and a gurnard nickname (it's also known as an armored gurnard).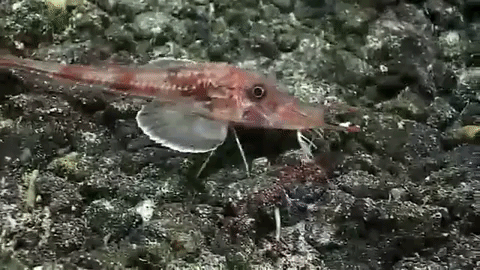 This weirdo lives deeper down than flying gurnards, so humans don't often get a glimpse of them. But when they do, it's a pretty freaky glimpse.

This fish's red color and spiky, bony body make it seem primed for battle at any time.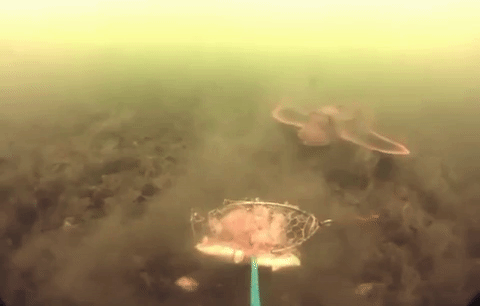 Let's hear it for these weird winged creatures that aren't afraid to let their freak flags fly!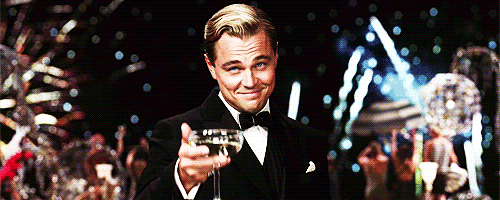 Add your name right now to make a difference for marine life and our oceans with Oceana.