---
Atlantic goliath groupers (Epinephelus itajara) can be monster fish. Reaching lengths of up to 8 feet long and weighing up to almost 800 pounds, these giants can be found in warm, tropical Atlantic waters.
Goliath groupers are "large predators and can eat large preys," according to a representative at the Florida Fish and Wildlife Conservation Commission. He was unintentionally hilarious to ABC News in 2014 when asked how it was that a goliath grouper was caught on film EATING A 4-FOOT BLACKTIP SHARK WHOLE IN ONE BITE off the coast of Florida in Bonita Springs.
You'd think it would be the other way around. SHARK EATS GROUPER. But it's a topsy-turvy world, friends.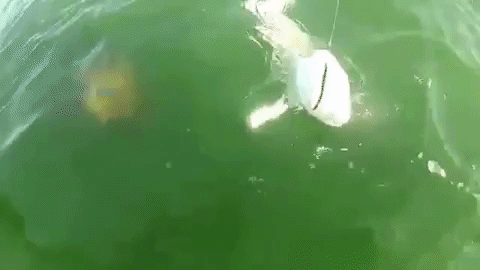 That linebackers like to fish for goliath groupers is something we've learned from YouTube.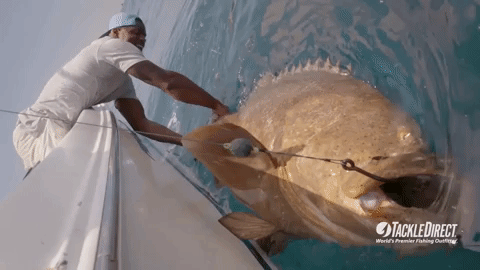 But goliath groupers have been known to "stalk" humans and "conduct ambushes" — especially of the catches of spear fishermen. Do you still think it's the sharks that are the scariest apex predator?
Their shark fins slicing through the water like a knife are not everything. Regarding goliath groupers, "individuals of this species should be treated with caution," warns the Florida Museum of Natural History.
Be smart on spring break, kids.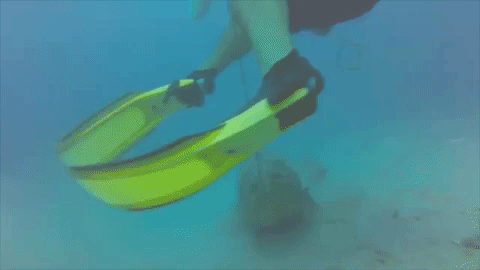 Thankfully, sharks-in-one-bite (or humans) are not a typical meal for goliath groupers, according to National Geographic. Their teeth are not really the flesh-tearing kind.
They are small and "recurved" and generally used only to place-hold food in their mouths before they gulp, not for wildly tearing it apart like large, serrated shark teeth.

Goliath groupers are simply opportunistic. They will gulp what's easy.
A typical meal for a goliath grouper is usually mud crabs (much smaller than your average blacktip shark). But it seems the goliath will sometimes make exceptions.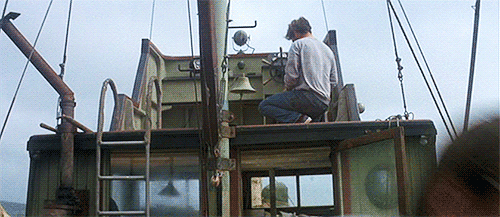 Watch the full video below: