---
As a scientist who studies creatures of the deep sea, you'd think you would be used to most anything. But a new video from the E/V Nautilus of an underwater site in Hawaii shows that the ocean is always full of surprises — and some of them look like freaky Muppets.

The video zooms in on a black shape swimming around the ocean floor. "It looks like a Muppet!" a voice exclaims.
Sure, its large, flappy mouth kind of does make it look like a puppet. The googly eyes only add to the effect. But, what is it exactly?
Scientists watching the video were asking the same questions. Once the camera gets closer, you can start to see the creature in its full glory.
The creature seems to puff up like a beach ball — a beach ball from the underworld — and its skin begins to ripple.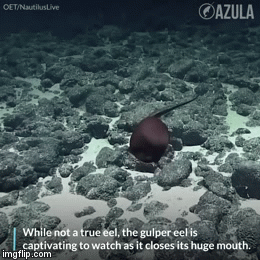 At this point, the scientists decide the creature has gone into defense mode. And if it's trying to intimidate someone, it's certainly succeeding.
When it opens its freaky mouth, it looks like it's going to swallow several smaller fish, as well as your mortal soul.
This was probably the moment that some of the scientists figured out what they were watching: a gulper eel. This rarely seen creature is, of course, named for the way it looks like it's about to gulp down everything in sight with its puppet mouth.
Even stranger than watching its mouth open is watching it close back up. The creature all but disappears, just a sliver of its previously huge form.
It looks a lot like an umbrella closing back up. And actually, that's its other nickname: the umbrella-mouthed gulper eel.
Very descriptive names, except that it's not really an eel. Scientists also don't know a lot about them, like why they open their mouths like that to begin with.
It probably happens when they feel threatened, but we're thinking of maybe submitting to science our theory that they're trying to swallow human souls. We'll let you know what they say.
In the meantime, watch the whole gulper eel video: