---
If you're looking for something to sit inside staring at when it's super cold outside, the Halitrephes maasi jellyfish may be just the distraction for you.
Researchers aboard the E/V Nautilus captured footage of this beautiful creature at 4,000 feet underwater at the Revillagigedo Archipelago off Baja California, Mexico. They were using a remotely operated vehicle to try and catch a crab when they spotted this beautiful fireworks show come to life.
Not to ruin the magic, but scientists do know what causes those lovely tendrils of light: radial canals that move nutrients through the jellyfish. So romantic!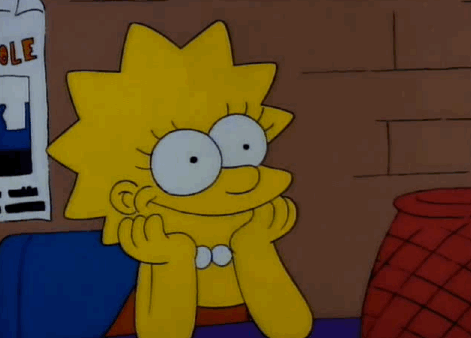 media.giphy.com
Most of the time, this beautiful creature swims through the ocean in darkness. It was the light from the Nautilus that gave the jellyfish its sparkle.
"Without our lights, this gelatinous beauty drifts unseen in the dark," the Nautilus team wrote on YouTube.
At least we know we're not necessarily missing out on a 24/7 fireworks show in the deep ocean.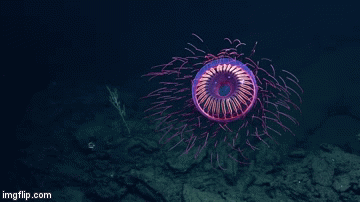 imgflip.com
The Halitrephes maasi comes from a family of jellyfish known for floating around in the deep ocean — they rarely encounter humans. They also all have an "umbrella edge," which lacks any lobes, and either solid or hollow tentacles.

The jellyfish footage is far from the only intriguing video the Nautilus has captured.
We also have these intrepid researchers to thank for the adorable stubby squid, for example.
media.giphy.com
They also spotted this shy octopus that hides inside its own arms.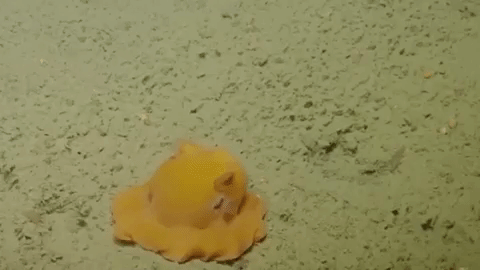 media.giphy.com
The Ocean Exploration Trust, which runs the Nautilus program, was started in 2008 by Dr. Robert Ballard, who's best known for discovering the wreckage of the Titanic. Its goal is just pure ocean exploration, so we're sure the team will bring more fascinating finds to their YouTube channel this year, too.
Now, back to staring at the Halitrephes maasi jellyfish!