---
Before the whale arrived, Dawson Gage was already having an awesome day. Gage, 11, had been fishing with his family all day in the Nootka Sound, waters around 46 miles northwest of Tofino, CBC reports.
The district is on the west coast of Vancouver Island in British Columbia. The area is famous as a destination site for nature-lovers, as it boasts ample opportunities to surf, birdwatch, whale-watch, fish or just experience the majesty of the outdoors. Each March in Tofino, thousands of gray whales migrate along the coast.
So Gage already had a day filled with the best delights the Pacific Northwest had to offer. But then, on the ride back, something blew him out of the water entirely. The fishing guide that led Gage's family on the tour was filming Dawson's reaction to the deep blue waters and majestic, foggy mountains in the distance, and Dawson turned around to smile for the camera.
Suddenly out of the water emerged a giant humpback water, leaping almost entirely out of the water right behind Dawson's head.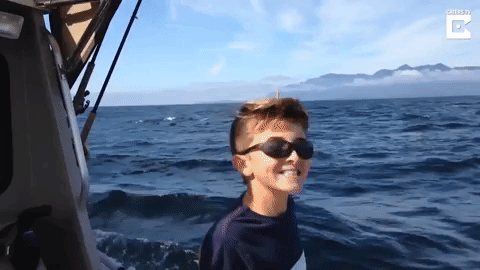 And Dawson, being no fool, immediately turned around to the camera and flashed a huge grin before turning right back around to watch the whale return to the waters.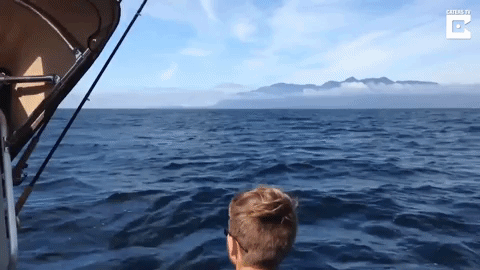 It made for the perfect photobomb, the perfect selfie, and the ultimate "show-and-tell" item that Dawson will no doubt be using at every school event for the rest of his childhood.
After the whale breached and the perfect photo was taken, the captain turned off the fishing boat's engine and let the boat idle in silence to watch the whale without disturbing it.
Apparently the animal breached three or four more times before winding its way back into the open ocean, leaving an absolutely captivated audience and a looping gif that will take its place in the internet's virtual halls of fame.
The video was first posted on Facebook, where commenters went ballistic. Jeff Chocholacek commented, "The still picture that was posted almost looked Photoshopped ... now I know it's real!" Many other commenters added their admiration in dozens of "What!!!!!!"s, "WOW!"s and "That's nuts."
And that's the story of how Dawson Gage got the best photobomb ever, thanks to the inadvertent help of one of the world's biggest animals.