---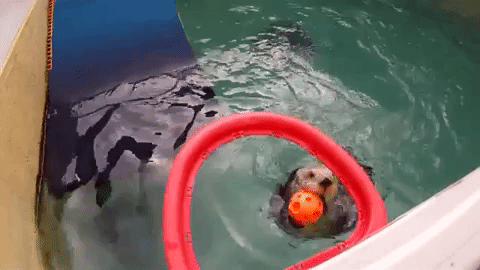 Giphy / Oregon Zoo
So how does the Oregon Zoo, where he's living out his retirement, keep him healthy? By giving him frozen treats and encouraging him to play basketball, of course.
Back in 1998, when Brandy and Shania Twain ruled the charts, the Monterey Bay Aquarium found Eddie, abandoned as a newborn pup. In 2000, the Oregon Zoo took him in.

He started shooting hoops in 2012, when he was 15. He had started to develop arthritis, and trainers at the zoo thought hitting the court — well, the water court — would help improve the health of his joints.
Sea otters don't use their front limbs to swim, so throwing baskets would work muscles Eddie didn't use very often.
It took about a year of training, but when the Oregon Zoo reported on his progress in 2013, Eddie was rarely missing a dunk.
Giphy / Oregon Zoo
In addition to basketball therapy, Eddie's keepers also care for him in his golden years by giving him plenty of ice baths, which we have to say look pretty luxurious — though cold for those without a fur coat.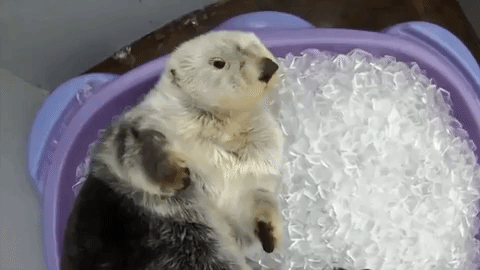 Giphy / Oregon Zoo
In the wild, otters can live to be 23, though the average life expectancy is close to 15 to 20.

The Aquarium of the Pacific has an otter who's also 21. They believe their otter, Charlie, is the oldest otter living in captivity in the world.
Here's ol' Charlie enjoying a birthday tube of seafood.
Look, we're not here to play favorites. Charlie and Eddie are both otter-ly adorable, elderly otters who are currently enjoying enviable retirements.
Though if they want to play basketball together to see who wins the title of ultimate old otter, we would 1,000% watch that video. Think about it, Charlie and Eddie!
Add your name right now to make a difference for imperiled marine life and our oceans with Oceana.