---
Attention, researchers: Wild animals know you're recording them. Or, at least, it seems like some of them do. A pair of emperor penguins that found a researcher's camera on the ice in Antarctica might just suspect that they're being watched.
In the video at the end of this article, one of the penguins approaches the camera and tips it over so it's facing up toward the sky, rather than out across the ice.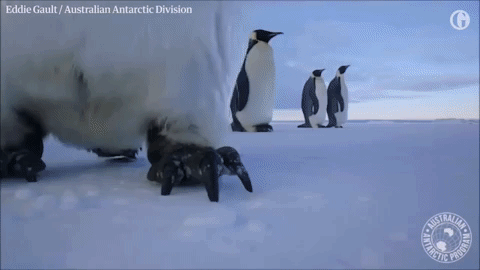 It's unclear whether the penguin intended to knock the camera over. But once he does, he's joined by a friend, who makes a loud noise, perhaps to convey how excited he is to have discovered a new shiny thing.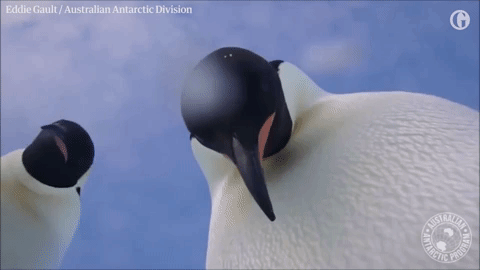 Perhaps he wanted to show off his voice to whoever was watching him.

We really want to believe that the penguin knew exactly what the camera was, and tipped it over on purpose to take some adorable selfies.
But what are the odds that penguins actually know how cameras work?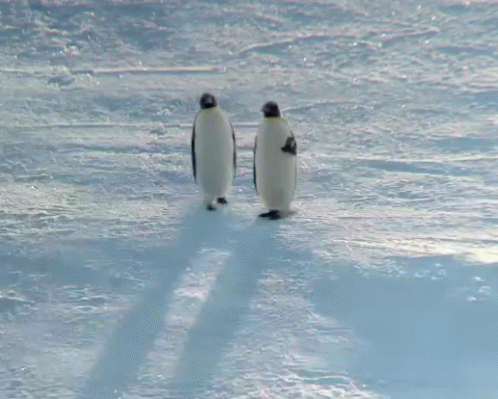 Giphy
The camera belongs to an explorer named Eddie Gault. He left it on the ice in the Auster emperor penguin rookery, one of the 46 colonies of emperor penguins in Antarctica. The Auster colony is in East Antarctica, near Australia's Mawson research station.

The Mawson region is home to not only emperor penguins, but also Adélie penguins, snow petrels, Weddell seals and many more species. The Mawson research station has been operating since 1954, and typically has 24 inhabitants in summer and 16 in winter. Right now, autumn has just begun in Antarctica.
This is the time of year when emperor penguins are feeding and fattening up in preparation for breeding season.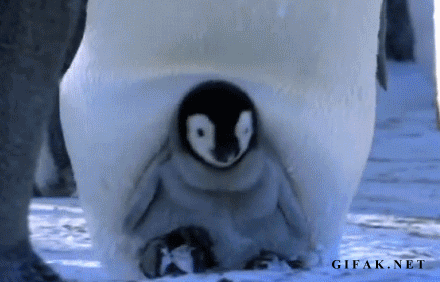 Giphy
The penguins who discovered the camera are enjoying the last of the warm weather, before the days shorten and the ice thickens. The emperor penguin colonies will soon leave their coastal areas and move inland to their breeding ground. If you've seen "March of the Penguins," you know the rest.

Watch the emperor penguins take selfies in the full video below!