---
Honestly, we shouldn't even have to say this, but please don't pet whales. (While we're here, also please don't carve love notes into dead whale bodies either.)
This plea for leaving whales the hell alone comes because of a whale-watching tour that did the opposite of that.
Captured in a Facebook video from Anchor Charter Boats, several ship guests leaned over the side of the vessel to stroke a gray whale.
This charter boat is far from the only time people have tried to pet whales.
In the early 2000s, an orca named Luna was a frequent tourist attraction off Vancouver Island because he would come right up to boats. Smithsonian published shocking footage from the documentary "The Whale" that features some of this interaction with Luna.
There are shots of children leaning dangerously over the boat railings to touch Luna: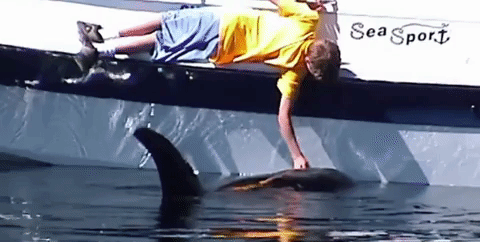 GIPHY/"The Whale"
There's also footage of people sticking their hands in his mouth: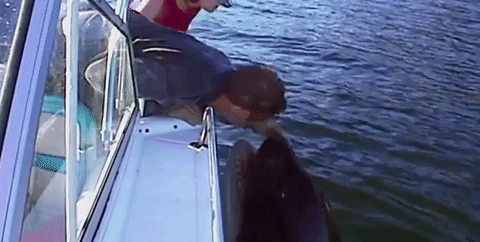 GIPHY/"The Whale"
And, there's even video of a child feeding him a plastic buoy: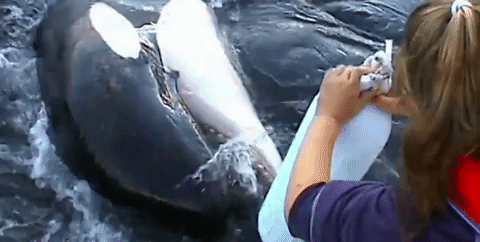 GIPHY/"The Whale"
The footage is honestly alarming — these are wild, enormous, powerful animals we're talking about. They're unpredictable, and they could inadvertently (or intentionally, if they felt threatened or provoked) harm humans. But people aren't the only ones at risk here, and Luna the orca isn't the only cetacean affected by the behavior.

Gray whales are often a target for touching. There are even several articles online talking about the "friendly" gray whales of Mexico that seem to want to be petted.

But here's the thing, it's up to humans to say no.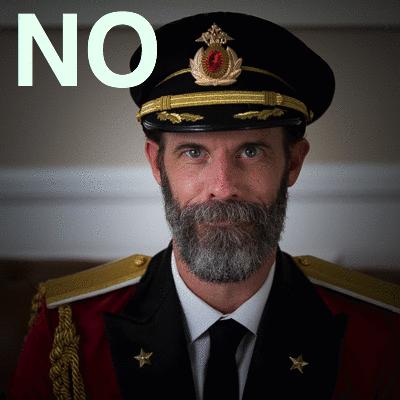 Not only is "harassing" a whale prohibited under the Marine Mammal Protection Act, but NBC reported it's illegal "for a person to come within 300 feet of a gray whale under federal law."

The Sacramento Bee reported that Richard Thornton, owner of Anchor Charter Boats, defended himself to his local CBS affiliate.
He felt "he was within the law because the whale came up to his boat, not the other way around," according to the Bee.
Unfortunately, that's problematic. See, a big part of why marine scientists and activists don't want people to touch or disturb whales is because they don't want them accustomed to boats or humans.
"Touching them can transmit harmful diseases, while feeding them could make them sick or dependent on humans for food," Huffington Post reported. "Plus, the more comfortable they are with boats, the whales are at a higher risk of getting hit by one."

That's the kind of tragic end that Luna met.
GIPHY/"The Whale"
In 2006, the Seattle Post-Intelligencer reported that Luna died in a boat collision. He wandered up to the boat, as he had done so many other times — expecting pats and attention and food — and sadly got sucked into the engine and sliced by the propeller.

Officials don't just warn people not to interact with whales for human safety — but also for the whales' safety.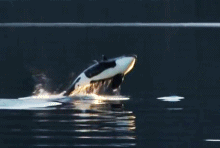 Overall, people should respect the whales' space and not attempt to interact with them.
Huffington Post cautions people that while "some whales will approach vessels because they're curious about who's in their home," it's ultimately up to the humans to put the boundaries in place.
"If you find yourself getting too close to a whale, stop immediately and maneuver your craft out of the area. If you're in a power boat, keep the engine running and stay in neutral gear until the whale passes," HuffPost says.
And, whatever you do — Don't. Pet. It.