---
In a movie landscape cluttered with remakes and reboots, where J.K. Rowling just announced they'll be making five movies about "Fantastic Beasts and Where To Franchise Them" — sorry, Where To Find Them — it'd be understandable if you're all sequeled out.
But if there were ever a subject that deserved another look, it'd be, I dunno, all life on Earth.
That's right, BBC just revealed the trailer for "Planet Earth II," the sequel to the amazing, high-definition documentary series that covered 11 different habitats. And by the looks of it, "Planet Earth II" is shaping up to be even more mind-blowing than the original.
It's got eagle fights ...
... giraffe versus lion fights ...
... flying lizards and gila monsters.
The only complaint? More David Attenborough! Sorry — more SIR David Attenborough.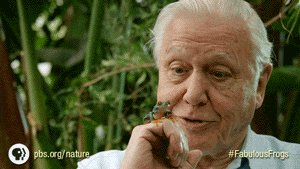 Although maybe he only shows up for the last few seconds of the trailer because he'll be sharing narration duties with Snoop Dogg this time around. Please?
You can watch both trailers below.
And if that brief teaser trailer isn't enough for you, here are the greatest hits of the original "Planet Earth."
And a clip of that time David Attenborough narrated a tortoise mounting a shoe, because, duh.
A release date for "Planet Earth II" has yet to be announced, but four years of ultra-HD filming have already been completed; so whenever it comes, it'll definitely be worth the wait.
Learn about how you can help vulnerable marine animals by signing up with Oceana.