---
Visitors hoping to see some penguins at the Telford Exotic Zoo in England are going to have to be OK with the next best thing: plastic penguins.
Normally, the Telford Zoo houses the real thing. In fact, they just spent tons of money building a brand-new space for the penguins they hope to provide with a great home.
Unfortunately, though, there is a global penguin shortage. In most of Europe, penguins in zoos aren't captured from the wild and then placed in captivity.
Instead, they are bred from other zoos or wildlife preserves dedicated to penguins and other birds, and then sent to live in zoos across the continent.
But there is currently a malaria outbreak that's been taking out Humboldt penguins over the past few years.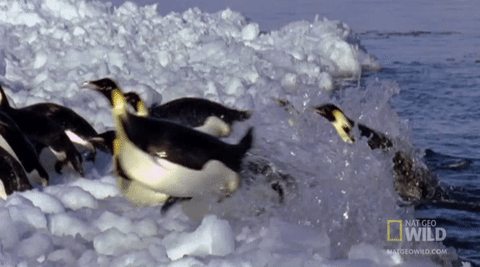 Giphy
Thankfully, the malaria that penguins contract doesn't affect humans, and it didn't use to hit penguins in the wild. After all, their feathers normally protect them against mosquito bites. But it can spread quickly, severely weaken and eventually kill penguins who have already been living in captivity.
Sadly, it's also been increasingly spreading to penguins in the wild, as climate change makes for longer periods of warmth, where penguins have fewer feathers for longer periods of time.

The Telford Zoo has had to put off having real penguins for a while, until more can be procured from elsewhere around the world. As of now, instead of debuting their new penguin enclosure with real penguins, they've hung a banner that says "Penguins Coming Soon!"
Workers have had fun posing with the plastic birds until some new ones can enter their new home, and say that the fake models have actually drawn some curious eyeballs to the zoo.
It's not like the plastic ones are passing for the real thing. But at least they don't stink?

Add your name right now to make a difference for marine life and our oceans with Oceana.