---
The sculpin is a fish that doesn't really like swimming that much. It prefers to hang out on the bottom of the ocean or a lake and wait for whatever food might come along.
Take, for example, this buffalo sculpin, chilling on this rock with what locks like a giant sea caterpillar: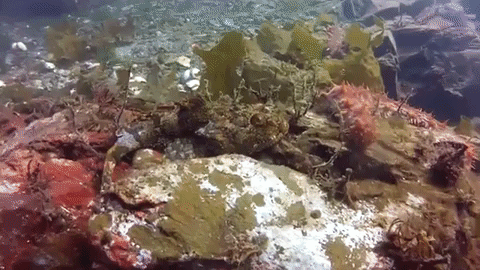 Giphy
Did you see it move its tail?
Sculpins actually constitute a whole order of fish, and there are many families within that order, and many species within those families. But the one thing they all have in common, according to Encyclopedia Britannica, is that they are bottom-dwelling and inactive.
If this buffalo sculpin didn't move its gills, you might think it was a stone carving that someone with a sense of humor placed at the bottom of the ocean for unsuspecting divers to find and get a good laugh.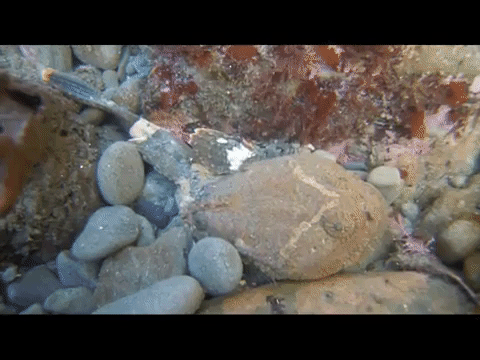 Giphy
Another type of sculpin that you have probably heard of is the blobfish.
Blobfish belong to a family of sculpins that has been affectionately named the fatheads. All sculpins have large heads and tapered bodies, but apparently taxonomists have deemed the fatheads to have exceptionally fat heads.

When they are underwater, blobfish do not look like they look in the picture above. They actually look like this:
Much more similar to the body shape of the buffalo sculpin in the gifs above. These fish live in the very deep ocean; and when they're brought to the surface, their bodies change in a dramatic way.

Blobfish may appear relatively normal, but they have very little muscle mass compared to other fish. Their specialty is sitting still on the ocean bottom and waiting for crabs or mollusks to come along, and then snatching them up.
Sculpins live in many different habitats and have many variations, but all of them seem to prove that sometimes being a couch potato is a perfectly healthy, adaptive life.
Add your name right now to make a difference for marine life and our oceans with Oceana.