---
After nearly 20 years of struggling without one of his front fins, one sea turtle just saw his life chang forever.
Meet Rocky, a green sea turtle who was rescued in 2001 after a boat strike caused him to lose his right front flipper, according to the New York Post.
He's been at Florida's Key West Aquarium ever since.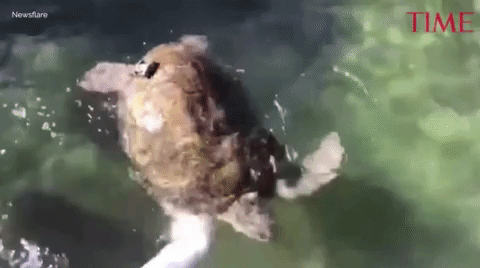 Fox News reported that Rocky had previously been using a life jacket to help him float and swim.

But now he can swim just like he used to thanks to a specially designed prosthetic flipper.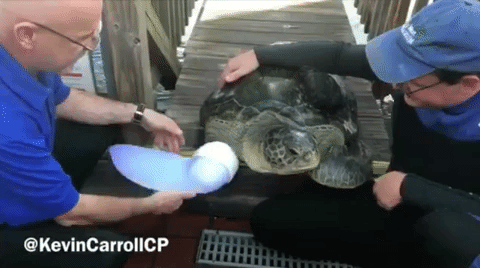 The New York Post reported that prosthetist Kevin Carroll heard about Rocky and got a team together to help the turtle out. According to his clinic's website, Carroll is the same man who made the dolphin tail prosthetic for Winter, whose story was told in the film "Dolphin Tale."
Fox News reported that Carroll worked on Rocky's limb in his spare time, saving the aquarium around $6,000.
But he was happy to help Rocky in any way he could.
"I find that with turtles they have an energy about them, a willingness to work with you," Carroll said, per Fox News. "If they could talk, I think they would be saying, 'Let's do this.' It's incredible to see."

As he gets used to the prosthetic, Rocky will use it for an hour a day to start, the Post reported.
But it's looking like he's adapting quite well.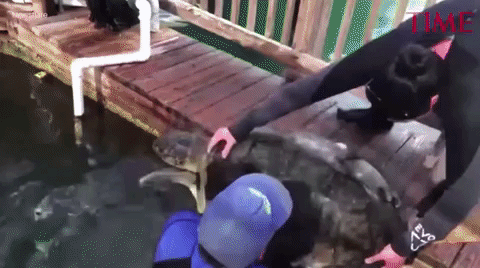 "We put it on and off he went swimming," Carroll said, per Fox News. "It was fantastic to see."

Rocky's not the aquarium's first sea turtle to get a prosthetic flipper.
According to the Telegram & Gazette, Lola received a 3D-printed prosthetic in 2016 after losing her flipper in 2002 due to fishing gear entanglement.
The flipper was built by a group of kind-hearted Worcester Polytechnic Institute engineering students.
Sea turtles can endure an awful lot of hardship in the sea, so it's nice to see a win for them now and again.

And no one deserved a win more than Rocky. Watch his journey here: