---
Scientists in France think they've got the world's first talking killer whale on their hands.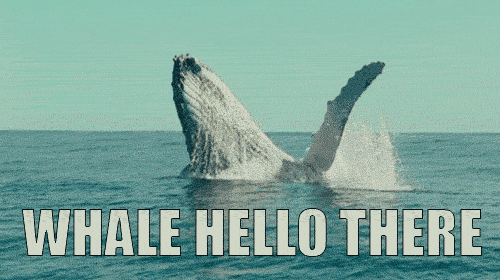 media.giphy.com
There, an orca named Wikie has been taught to mimic human sounds, including words like hello, one, two, three, bye-bye and the name Amy.

The noises that Wikie makes aren't nearly as clear as a human's "hello" would be, or even that of a parrot, for instance. But it is still a rare example of an animal being taught to make the same sound that a human would.
You can hear some of them in this video:
Regardless of whether or not Wikie made a perfect "hello" sound, though, the exercise can teach researchers a lot about whale communication.
We've long known that many cetaceans, like whales and dolphins, live in pods and develop ways to speak to each other in those groups.
Scientists have even seen some groups develop their own dialects unique to their pod.
via Flickr

Researchers believe Wikie's training could support the theory that cetaceans dialects are a result of learning, as opposed to innate ability, and could teach us more about how such animals are able to absorb this kind of information.
via Flickr
But as incredible as Wikie's achievements and the research are, many conservation experts are arguing it's all the more reason why the orca shouldn't be contained.
Such an intelligent and skilled animal may be able to teach us a lot about whale communication, but it doesn't seem fair to force her to do that while being held in captivity.
While Wikie may be able to learn to communicate in new ways while in a tank, she is also being denied the communication she would have with her orca peers in her natural habitat.
media.giphy.com