---
Everyone knows piranhas only live in South America, so if you're taking a dip in the ocean in Australia, you should be safe, right? Wrong.
When native Australian Julie Pochet decided to go to the beach in her hometown of Port Douglas on November 26, she had no idea what she was in for.
media.giphy.com
To cool off, Pochet went for a dip in the ocean but stayed within 2 meters of shore to avoid danger from jellyfish and crocodiles.

Pochet told the Herald Sun that within 10 seconds of getting into the water, a large fish poked her in her ribs. She said it "looked like a wrasse" and was no bigger than an average parrotfish, which ranges from 12 to 20 inches.
Thinking the fish was harmless, Pochet reached out to pat it. But the fish took a huge bite out of her hand. She began bleeding profusely and had to go to the hospital.
The wound was so severe that doctors had to give her a skin graft.
James Cook University coral reef fish expert Professor David Bellwood told the Herald Sun that the fish that bit Pochet was probably a pufferfish or a triggerfish.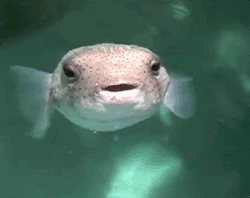 media.giphy.com
Both puffers and triggerfish are common in shallow water and have been known to attack humans.

"I have had a pufferfish chase me for several meters across a reef flat, in waist-deep water," Bellwood said. "It was overly inquisitive and I had to push it away."
Bellwood said he had never heard of a triggerfish or pufferfish actually attacking someone in shallow water. However, in deeper water, triggerfish will not hesitate to bite humans who come close to their nests.
Triggerfish have chisel-like teeth and can grow up to 20 inches long.
Derek Ramsey/Wikimedia Commons
They're named for the trigger-like mechanism that locks their first dorsal fin into an erect position. Australia is home to 22 species of these babies — watch out for them if you ever visit.