---
While most sharks are known for their impressive swimming and hunting skills, one type of shark has a different way of getting around the ocean: the walking shark. Walking sharks, also called epaulette sharks or bamboo sharks, are a family of nine species characterized by their ability to "walk" along the ocean floor.
These sharks are bottom-feeders that live on coral reefs. Using their pectoral and pelvic fins as make-shift legs, walking sharks can poke around the nooks and crannies of the reef to find crustaceans and other snacks.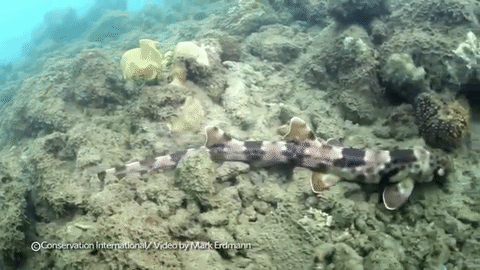 All walking sharks are harmless to humans, and they grow no bigger than 3 feet long. And of course, though they have unique walking abilities, they often do swim as well.
In a BBC video, Davin Attenborough explained that sometimes these sharks stick around reefs during low tide. Though water is scarce during that time, meaning they get less oxygen, walking sharks can shut off part of their brains during low tide so they don't need as much oxygen. They can survive for hours in this state.
There's still much to learn about these quirky species, and scientists recently discovered that the sharks' range is smaller than previously though. That means they are at a higher risk of extinction.
"Anytime a marine species is only found in a relatively tiny area, it means it is significantly more vulnerable to extinction than wide-ranging species," Mark Erdmann from Conservation International and the California Academy of Sciences told the Guardian.
"Any local threat — whether from fishing, from an oil spill, from rising temperatures or even from physical destruction from a cyclone or tsunami — has the potential to wipe out the entire population."
Learn about how you can help vulnerable marine animals by signing up with Oceana.