---
We know whales are big. But it may not sink in just how big they are until you see one in the water with a human, or circling around a boat.
A video was recently recorded with a drone by Mark Girardeau, a photographer and videographer from Orange County, California. Girardeau was on a whale-watching tour with Newport Coastal Adventure, which operates out of Newport Beach.

The incredible video shows a fin whale circling around the whale-watching boat.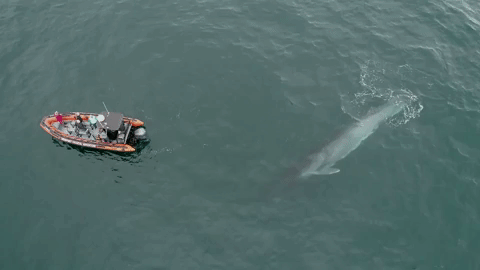 The boat is about 26 feet long and the whale about 60 feet long. According to Girardeau's description of his video on YouTube, the whale circled around the boat for about 45 minutes.

Whale watchers refer to this behavior — getting up close to a boat — as "mugging." Apparently it's more common among smaller humpback whales than among fin whales.
The fin whale in this video was actually on the smaller side.
Fin whales can be as long as 80 feet — that's second only to the blue whale, which can measure 90 or more feet long.

Wikimedia Commons
Compare that to the humpback whale, which can grow up to 60 feet long.
Fin whales live all around the world, but they are not often spotted.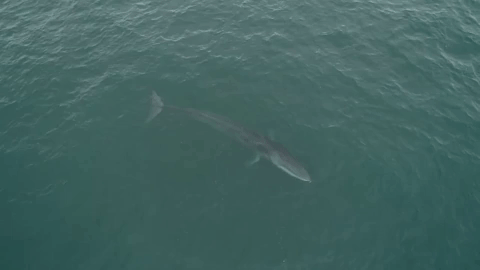 Because biologists have not had ample opportunities to observe them, fin whale migration patterns are not well understood.

We know that northern-hemisphere fin whales migrate north to their feeding grounds, and they migrate south presumably to breed. The whales are more often found at higher latitudes in the warmer months, but the pattern is still not entirely clear.
Apparently, there were multiple fin whales in the area when this video was recorded. Fin whales have been mostly observed riding solo, but they have been seen in pairs or groups of six or seven. During migrations, they might travel in bigger groups of as many as 300.
Watch the full video of the fin whale circling the boat below!