---
Southern right whales are usually a dark black color, but every once in a while the calves mix things up by being born completely white. And new drone footage opens up the world of these rare white whales in a whole new way.
You can see the difference between the white calf and the normal black-coloration of its mother here: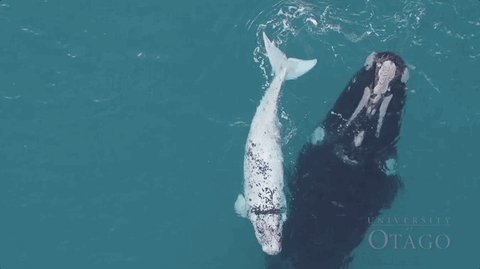 According to Phys.org, only male calves have been documented with this white pigmentation. It's rare, affecting about three-four percent of southern right whale babies, but it's also not unheard of.

For example, it's not the same as finding an albino ocean animal — which is very, very rare.
According to the Missouri Department of Conservation, albinism in animals occurs when the animal is unable to produce melanin. The condition gives their skin a pale white tone instead of standard coloration.
There have been true albino sea creatures before, like Casper the Risso's dolphin:
However, according to BBC, these white southern right whale calves are not albino. Instead, they're white because of a recessive gene, according to Phys.
They're basically the equivalent of when a human is blond-haired and blue-eyed. It's not as common, because the dark coloration genes usually win out.
But every once in a while, the recessive genes combine perfectly to create these white whales.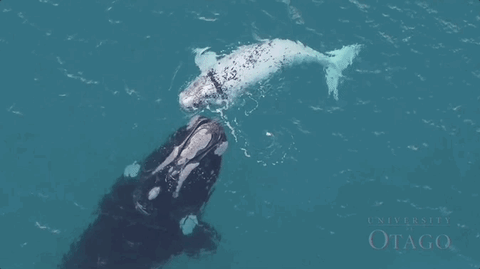 Further proof that they're not albino whales comes from their development into adulthood.

According to Phys, the white calves get darker as they age.
YouTube/University of Otago
The University of Otago, who captured the white whale drone footage, reported that they'll never turn completely black, but the white calves will get a gray mottled color over time.

Phys reported that scientists love drone technology for letting them get these stunning shots of rare whales while not intruding on the pod, and they also love the white calves for making them easy to spot.
Their unique coloring makes it easy to track which whales are which, year after year.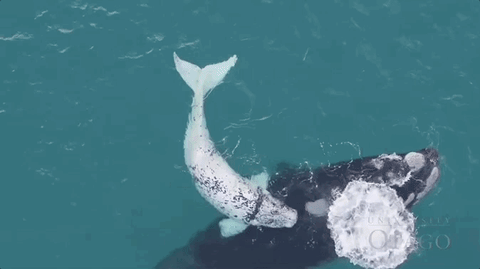 And Marine Mammals of the World reports that white isn't the only unusual coloring these whales can have. Some can be blueish-black or light brown in addition to the traditional black and the occasional surprise white.

Basically, they're as unique as we humans are.
And they make for some amazing drone footage. Watch the full video here to see the rare white calf in action.
Add your name right now to make a difference for dolphins, whales and other marine mammals with Oceana.